About Us
We focus on enabling better and more strategic collaboration between foundations.
NEF is a launching pad for donors' collaborative projects.
Beyond the take-off of the collaborative project, NEF acts as an implementing partner by conducting its mission of advisor, support and legal responsibility.
Mission
Increasing philanthropic impact by providing a space for collaboration, learning and regranting through donor collaborative projects.
To fulfill this mission, NEF ensures the due diligence and compliance of all legal acts NEF takes on behalf of the donors' collaborative projects.
NEF has a broad experience in philanthropic pooled funding. Pooled funding involves multiple donors that contribute their financial and social resources to invest jointly in a portfolio of grants.
Principles
European Solidarity through Philanthropy contributes to social cohesion and democracy across Europe.
NEF is part of the European Philanthropic Infrastructure. Within this eco system, NEF collaborates with a wide range of foundation networks, including Philea, EVPA, ARIADNE …
Those organisations serve as representative bodies for the philanthropic community while NEF's distinctive value lies in its expertise in re-granting through pooled funding.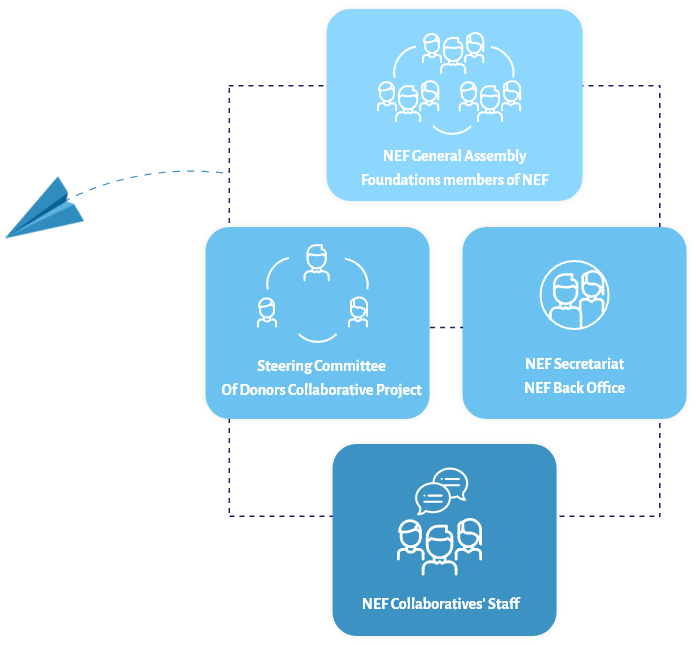 Governance
NEF's main body is the General Assembly that launches or approves the donors' collaborative projects hosted by NEF. The NEF GA elects the Board that supervises the day to day running of the association.
The NEF Board oversees the developments of the collaborative projects and ensures their alignment with the NEF operational framework.
The NEF Secretariat at large is composed of the NEF back-office team and the staff dedicated to the collaborative projects.
The NEF back-office team works to embed the donors' collaborative into the NEF structure, in terms of policies, practices and work culture. The collaborative projects' staff ensure the management of their respective pooled fund.
At the donors' collaborative project level, strategic decisions are taken by the Steering Committee (representing the foundations behind the pooled fund).
NEF staff is usually based in Brussels at the Philanthropy House where the NEF offices are. NEF has also a branch in Belgrade with a team of 5 managing the European Fund for the Balkans.